In March, six composers from across the UK and a range of specialisms were selected to take part in the Wild Plum Songbook, an innovative new career development initiative.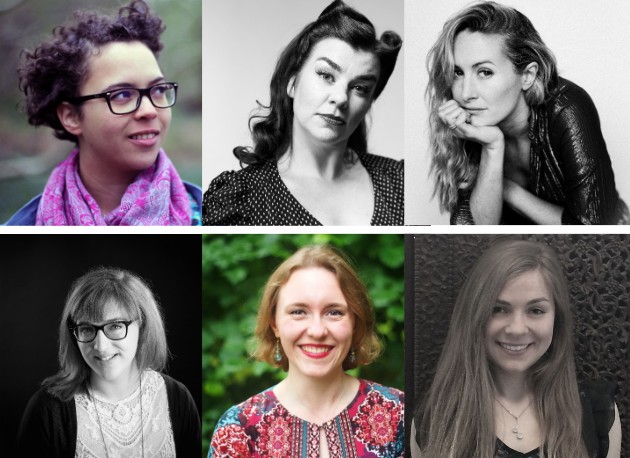 The new scheme offers women composers career development and commissioning opportunities, with the initial workshop producing a new commission for Lisa Robertson.
Wild Plum Songbook was created in partnership with PRS for Music, Wild Plum Arts and Cheltenham Music Festival and the inaugural work shop took place at the PRS Kings Cross offices from 8 to 9 March.
The selected composers for the initiative were Ella Jarman-Pinto, Janet Oates, Kate Marlais, Lisa Robertson, Rose Miranda Hall and Sarah Lianne Lewis and their works were workshopped by mezzo-soprano Rachael Lloyd and pianist Lana Bode, receiving feedback from mentor composers Errollyn Wallen and Joanna Lee.
The composers took their cue from from texts by Dr Julie Carter, Kim Addonizio, Lila Palmer and an 8th-century Irish Gaelic poem, translated by Lady Augusta Gregory, as well as their own words.
The days also featured workshops including, Promotion, Networking and Goal Setting with vocal coach Lucy Heyman, Managing Rights and Royalties with Harriet Wybor, PRS for Music, Funding with Tina Speed, PRS Foundation, and Recording New Music, with Anne Rushton, NMC Recordings.
Following the workshops Wild Plum Arts and Cheltenham Music Festival co-commissioned Lisa Robertson's work Speak Up for the Wild Plum Songbook, which was premiered by Lucy Schaufer and Huw Watkins at Cheltenham Music Festival's Composium on 10 July 2019.
The work also formed part of Wild Plum Art's All About the Women season, which also featured commissions by Zoë Martlew and Emma Ruth-Richards.
Wild Plum Songbook composer Ella Jarman-Pinto said of the workshops: 'At the moment my baby's only just starting on solids, I can't really leave her at home. It meant a lot that I went to PRS and said, "thank you for selecting me, but I need to bring my child," and PRS didn't bat an eye.
'To raise the profile of female composers you need to put things in place to allow us to do that. And this was a fantastic way to enable me to take part.'
Lisa Robertson is a Scottish composer whose awards include joint-winner of the West Cork Chamber Music Festival Composers' Competition and runner-up in the Cappella Nova Composers' Competition and the Walter and Dinah Wolfe Competition. Lisa is an Associate Member of the London Symphony Orchestra Soundhub and is undertaking a PhD at the Royal Conservatoire of Scotland. LisaRobertsonMusic.com

Here's a podcast from Thoroughly Good "Being a composer: doing the creating and managing the business", all about the workshops.
PRS for Music, the organisation that represents the rights of more than 135,000 songwriters, composers, producers and music publishers, also nurtures the creation of music through its partnerships, songwriting camps and educational programmes.
Alison Balsom, Artistic Director, Cheltenham Music Festival: "Cheltenham Music Festival has for 75 years been synonymous with world-leading composition and we want our new Composium to become an essential event in the calendar for the classical music industry. At its heart will be the chance to hear brand new work and we are incredibly excited that one of these composer's new works will come to fruition at the Composium in July, thanks to our joint commission with Wild Plum Arts."
Lucy Schaufer, Artistic Director, Wild Plum Arts: "Wild Plum Arts dedicates 2019 to All About the Women, and this mentorship initiative for The Wild Plum Songbook presents an ideal opportunity for us to support women composers in the beginning of their careers as well as those already confident in their artistic identity. We are grateful to our partners PRS for Music and the Cheltenham Music Festival and we look forward to working with these six incredibly talented women."
If you would like to support our work, please visit the SUPPORT US page.